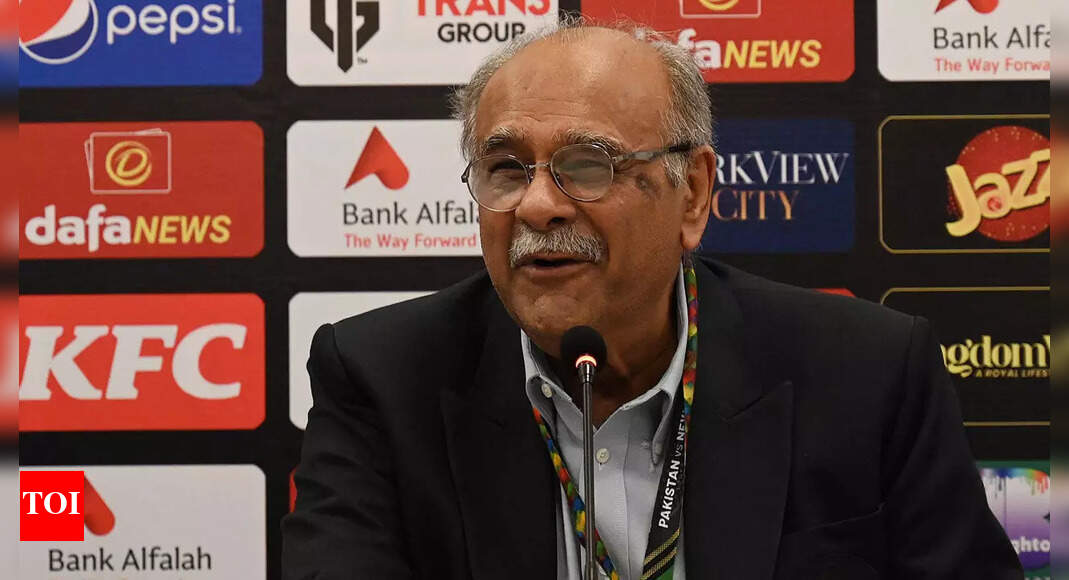 If India doesn't come to Pakistan, we will not be going to India for World Cup: PCB chief Najam Sethi | Cricket News – Times of India
NEW DELHI: Pakistan Cricket Board chairman Najam Sethi on Friday made it clear that Pakistan will travel to India for the ODI World Cup only if the Rohit Sharma-led team is allowed to play the upcoming Asia Cup and the 2025 Champions Trophy in his country.
The Asian Cricket Council (ACC) recently rejected the "hybrid model", which the former journalist feels is the only feasible solution until India and Pakistan start playing each other in their respective nations.
Sethi also said that if India comes to Pakistan, their national team will have no issues playing in any Indian city, including Ahmedabad.
Excerpts from an exclusive interview with the PTI:
What is the status of the Asia Cup and what is ACC's reaction to your proposed Hybrid Model?
In the current scenario, we have made it clear that let's play four matches in Pakistan and we will play the rest of the games at a neutral venue which we can mutually agree upon. The Asian Cricket Council can take two decisions. Either they can say 'Okay, let's go ahead and issue the schedule' according to my proposal or they can say 'No, we want to play all the matches at a neutral venue'.
If they take the first position, everything will be sorted out and we will get cracking. If they take the second position, then I am afraid we won't participate in the Asia Cup. That is the current position. We are waiting for a response from Mr Jay Shah and other colleagues.
Does it make sense for Pakistan to stay in the ACC if they don't play Asia Cup?
That is for the Asian Cricket Council to consider. The next turn for Asian Cricket Council presidency belongs to PCB. That's our turn. So we are very keen to stay in the Asian Cricket Council. Let me go beyond that. There can't be any ACC without Pakistan.
The two most important members who bring revenue to ACC are India and Pakistan. It's their matches that bring 80 percent of the broadcast rights. If Pakistan doesn't play Asia Cup, then the broadcaster, that is Star, is going to have problems.
The 45 or 46 million dollars that are supposed to come for the series (Asia Cup) is mostly going to come from these matches and the way Asia Cup is structured, Pakistan and India play two matches minimum and if they qualify for the final, there is a third match.
That's why India and Pakistan are both critical to the cup and to the council. Therefore it must be mentioned that in Bahrain at last ACC meeting, I had presented the hybrid model to save the Asia Cup as India had refused to play in Pakistan, which is the host country, that's where the problem arose. I had said, one solution is I will find neutral venue for India games.
The BCB president had then said, the option of Pakistan not playing Asia Cup is ruled out. If India comes to Pakistan, the crowds will be hospitable but if India doesn't come and gives no rational reason for not coming to Pakistan, when the whole world is coming to Pakistan, then this is the solution I have in mind. We will play India at a neutral venue but the rest of the countries must come and play their matches in Pakistan.
We have gone so far to say play only four games in Pakistan and play the rest of the games in the neutral venue. So we have given solutions for not just one issue but also for the World Cup and Champions Trophy (in Pakistan in 2025). Because if we don't go to India and play there's going to be a problem. And if India doesn't come to Pakistan for the Champions Trophy (2025), then there's a problem.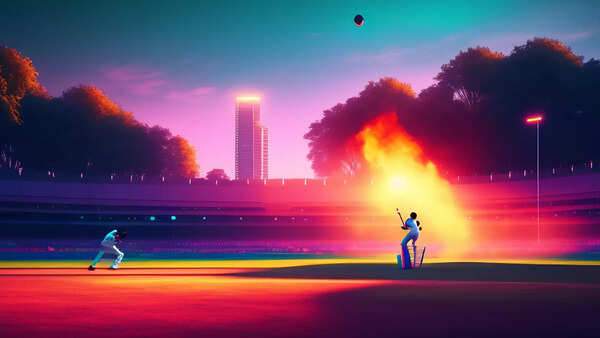 India not going to Pakistan is due to political tension but after former Prime Minister Imran Khan's arrest, don't you think other teams will be wary of going to Pakistan in the current security situation?
Imran Khan's protest situation is going on for six months. The New Zealand national team was playing in Rawalpindi, Lahore, Karachi when Imran Khan's protest was going on. So that's not an issue. The security provided to these teams are VVIP presidential security and it overrides everything else.
If there is a bit of hiccup in Islamabad, you mean you can't have cricket in Pindi, Multan, Lahore or Karachi? No it doesn't mean that. Let me go further. This is the month of May and we are talking about the Asia Cup in September. Give me a break. Are you saying in September, Pakistan will be up in flames and won't be able to play cricket. Well, then why not wait for September and see what happens.
"If the situation is such, that security can't be provided to teams, I will be the first one to say, let's move it to a neutral venue for all the matches. Do you think we want our honourable guests to face riots in Pakistan? No, we don't. We care for them. Please allow us to be responsible.
Why can't Ahmedabad be a venue for the India vs Pakistan match as Pakistan played at that very venue in 2005?
I have never said that. All I have said is that no one from the BCCI has asked us anything about Ahmedabad. For some strange reason, this is putting the cart before the horse. You are asking me whether we will play in Ahmedabad or not but I am telling you, the real question is whether we will play in India or not? We will play in India if India plays in Pakistan. But if India doesn't play in Pakistan, why should we play in India?
So my solution was, let India vs Pakistan matches be played at a neutral venue. That's all. You can't have your cake and eat it too.
Now coming to Ahmedabad, if India comes to Pakistan, we will provide VVIP security at every venue and I dare say, we go India on reciprocal terms, if India asks us to play in Ahmedabad in reciprocal terms, we will have no problems. We will play wherever they want us to play because we expect them to provide us the security that is needed just as India would want us to provide them with security at any venue if India were to play in Pakistan.
So Ahmedabad is frankly not an issue. Let's first resolve India and Pakistan playing in each other's countries.
If the ACC agrees to a four-match hybrid model, will Pakistan play in India as a hybrid model in the World Cup with Pakistan playing India in Bangladesh might not be a feasible solution?
Look, the issue right now is the Asia Cup. I would like the hybrid model to work and succeed. It is a formula going forward for the World Cup and Champions Trophy. Because if India refuses to come to Pakistan for the Champions Trophy, we will have a problem. If Pakistan refuses to go to India, there will be a problem, won't we?
The root cause is India not coming to Pakistan. So either we don't play at all or have a compromise while moving the ball forward. So let's have a solution. India and Pakistan going forward in all tournaments — Asia Cup, World Cup, Champions Trophy will not play each other in each other's country. No big deal. The game will still go on.
In the ICC revenue model India gets around 38.5 percent. It's a proposal but do you agree with that?
We have asked ICC to provide us with full detail of ideas and formulas underlying this model. The ICC has provided us with something that we want but not everything that we want. We are writing to ICC to provide us with assumptions underlying this model and formulas used to arrive at this model.
It is not enough to tell us that these are the figures. As per ICC constitution, it is every member's right to know how things are done and how certain decisions are taken. We are awaiting those details and we will take it from there.
Denial of responsibility!
TechiLive.in is an automatic aggregator around the global media. All the content are available free on Internet. We have just arranged it in one platform for educational purpose only. In each content, the hyperlink to the primary source is specified. All trademarks belong to their rightful owners, all materials to their authors. If you are the owner of the content and do not want us to publish your materials on our website, please contact us by
email – 

[email protected]
. The content will be deleted within 24 hours.