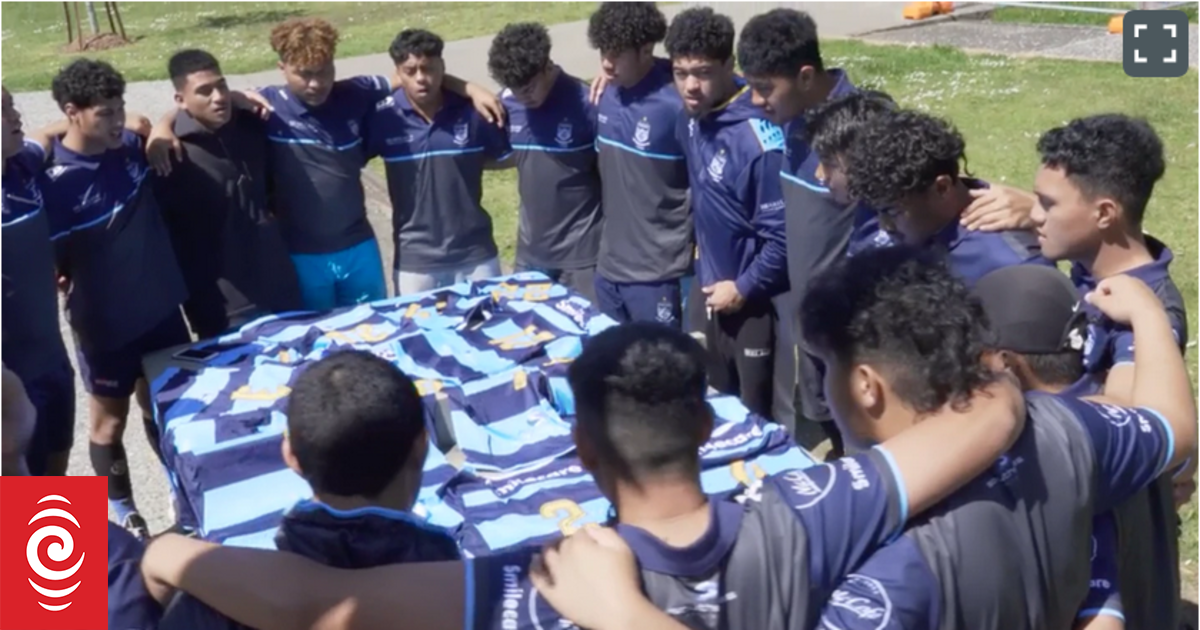 Review: The Blue Wall shows rugby's south-side influence
If you're driving past a rugby club or secondary school in the afternoon or evening at this time of year, chances are you'll see a group of young men and women doing the hard yards out on the fields.
It's pre-season training time, which means an awful lot of team building, coaching, but most of all: running.
Some pre-season schedules are so comprehensive they are almost as long as the season itself, but once you actually get your head around what makes a solid First XV programme operate, you'll understand why.
A good way to do this is to watch The Blue Wall, a series released late last year following the fortunes of the Tangaroa College First XV, who play in the Auckland 1A grade.
Made by filmmaker Anthony Costello, The Blue Wall certainly does what it sets out to: showing just how much effort goes into preparing young players for a highly competitive competition. However the most interesting aspect for astute rugby followers is the subtle commentary it makes about the 1A competition itself and its place in the player production line leading, ultimately, to the highest level.
Auckland secondary school rugby has been a hot topic for years now.
It's a landscape of haves and have-nots, with Otara's Decile 1 Tangaroa firmly being in the latter category and competing with well-off city schools not only on the field, but also to simply keep the talent in their area being taken away by scholarships to the likes of St Kents, Sacred Heart and Auckland Grammar.
Which is why the themes of representation and pride loom large throughout the eight-part series. Tangaroa's team is entirely Pasifika, with the boys acutely aware of the challenges that the south Auckland community faces through economic and social prejudice, but determined to make the best with what they've got.
For fans of the highly successful Netflix series Last Chance U, there will be plenty of familiar narratives and cinematography. There's also the tried and tested focus on key players and the overarching input of coach Saua Leaupepetele, which works well to pull the whole thing together.
It's within these stories, where we're introduced to the players' families, that The Blue Wall packs its most emotional punch. Interviews with parents show just how important their sons' careers are and what they're willing to do to fulfill their dreams.
That's also where it might get a bit confronting for some viewers who are unfamiliar with what it takes to make it in high level sport. Benaiah, the most talented player in the side, is woken by father Lafoga at 5am every morning along with his siblings to get out and train. This is when you realise that it's not just for fun, but this is the best illustration of how busting your arse breeds success – Lafoga's attitude and methods come off as very old school, but they work. By the time the series was shot Benaiah was already on the books at the Sydney Roosters and was looking forward to a career in the NRL.
There's also a scene that peels back the curtain on a lot of the motivation that drives Tangaroa every time they play one of the more well-heeled schools. In a pre-match speech for a game against St Kents, the players are reminded that the scholarship "brown boys" on the other side are "locked into a community that they don't belong to" and "how far will that go for them when it comes down to muscle on muscle, pain on pain".
It is a standard rugby tactic to dehumanise your opposition before games. But to hear it done in a way that cuts to the heart of the schoolboy poaching argument is a stark reminder of how inherently ruthless our national game is, especially since the camera takes you into the sheds and you almost feel like having your senses overpowered with Deep Heat, intense stares, crushing bro-shakes and do-or-die rhetoric.
However, you can't point a camera at boys like this for that long and not get something humorous out of them. Like the earnest but hilarious realisation that at First XV level, the white boys can hit you just as hard, or when captain Willie low key brags about his nickname of 'Playboy' and his effect on his female classmates.
But really, the biggest positive from The Blue Wall is that it was even made at all, given that the biggest story about 1A last season was about how certain schools shunned media access to teams and forced the discontinuation of showing matches live on TV. Tangaroa's participation in the series shows just how misguided that decision was, whatever basis it was made on. The players have been given a human face, one that shows an often misunderstood figure in New Zealand society – the Pasifika teenager – in a positive and uplifting light and telling their story on their terms, something that the filmmakers deserve massive credit for.
It's not all perfect. The footage of the boys' games is very basic, so a lot of the context about these fixtures (for Tangaroa, every single one is important to avoid relegation) is missed. A game like rugby requires multiple cameras and elevation to do it justice, however this is more of a quibble than a complaint given the understandably limited budget and capabilities of Costello's tiny crew.
One lasting observation, though, is that the pressures and expectations on the Tangaroa College boys are really not at all different to the schools at the other end of the scale, so the series successfully avoids being a 'poor me' story. Yes, there is about a million dollars' worth of difference in the funding they receive compared to the likes of St Kents, but really the Tangaroa First XV is pretty well kitted out, staffed and looked after in comparison to any other sports team at their level. That's not to say that the system they operate in is in any way fair, but in Benaiah's case, it shows that the pathway to professionalism out of one of the battlers still does very much exist.
Which is something, along with the unique south Auckland setting, that The Blue Wall does a fantastic job of celebrating.
Denial of responsibility!
TechiLive.in is an automatic aggregator around the global media. All the content are available free on Internet. We have just arranged it in one platform for educational purpose only. In each content, the hyperlink to the primary source is specified. All trademarks belong to their rightful owners, all materials to their authors. If you are the owner of the content and do not want us to publish your materials on our website, please contact us by
email – 

[email protected]
. The content will be deleted within 24 hours.