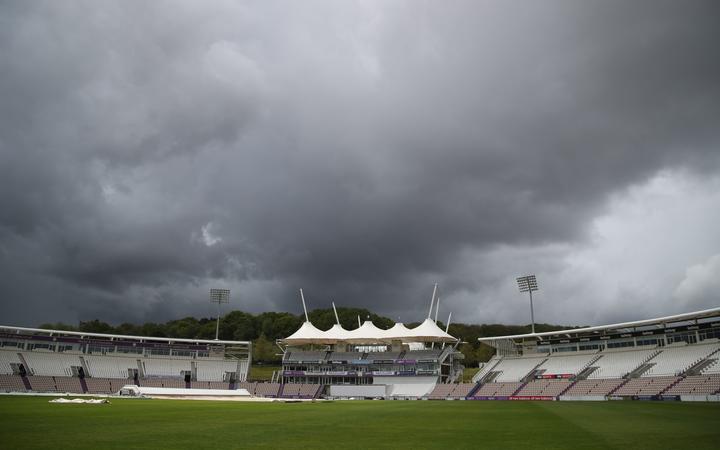 Weather works against Black Caps
England's notorious weather continues to frustrate the Black Caps who have been forced to change their schedule this week.
The majority of the tourists have been in Southampton for almost a week but are yet to get outdoors for training.
They spent the first few days in quarantine and since then have been forced into the indoor nets at the Rose Bowl.
They were scheduled to start a 3-day intra squad game Wednesday night (NZ time), but coach Gary Stead it was felt they needed to get some outdoor training in first.
"It's not ideal that we're indoors all the time and there are just so many indoors sessions that you can do
The first of two Tests against England starts at Lord's next Wednesday, while the Test Championship final against India starts on June 18th.
The weather in Southampton is forecast to improve over the next couple of days.
"People want to get on grass first and foremost and get the opportunity to train properly, we were lucky to be able to train on grass wickets before we left New Zealand, so it's not like we're miles behind, said Stead."
The game amongst the players has been cut to two days starting on Thursday night (NZ time).
"We'll now train outdoors so that they get a couple of days of training without the cut throat sort of stuff of a match."
Stead says while it's not ideal, he doesn't think the lack of outdoor training will hurt them.
"Something we pride ourselves on is the ability to roll with the punches, adapting to what is in front of us but with a big squad of 20 players it's difficult to manage their expectations indoors."
On the flip side of the teams eagerness to get outdoors, is Stead's concern that they'll go too hard early and get injured.
"We've tried to manage the loads of our bowlers in particular right through the whole tour and when we think people will play, but we're happy with where guys are at the moment, albeit we want to get outside and get on some grass."
"Whenever you go from indoors to outdoors you ask the bowlers to pull back a bit for that first session and not get too excited and carried away with being on grass.
"Tee it high and let it fly!" Hotel isolation meant Mitchell Santner had plenty of time to take in fellow lefty @PhilMickelson's historic @PGAChampionship win #PGAChamp pic.twitter.com/9Jzffvg4Ce

— BLACKCAPS (@BLACKCAPS) May 24, 2021
Today was the first outing for the three Indian Premier League players, Kane Williamson, Kyle Jamieson and Mitchell Santner with the rest of the squad.
"There was a glint in their eyes of getting back to training again and we've got a week or so to get them back up and running and I have no doubts they'll be ready to play, said Stead.
Trent Boult is the only player yet to join the squad, he returned to New Zealand following the IPL to spend time with his family.
The swing bowler is scheduled to leave New Zealand on June 3rd in time for the second Test in Birmingham.
Upcoming tests:
1st Test vs England, Lord's, London, June 2-6
2nd Test vs England, Edgbaston, Birmingham, June 10-14
World Test Championship final vs India, Southampton, June 18-22
Stay connected with us on social media platform for instant update click here to join our Twitter, & Facebook

We are now on Telegram. Click here to join our channel (@TechiUpdate) and stay updated with the latest Technology headlines.

For all the latest Sports News Click Here

instant= new adsenseLoader( '#quads-ad4-place', { onLoad: function( ad ){ if (ad.classList.contains("quads-ll")) { ad.classList.remove("quads-ll"); } } });