4 Unique Boys' Watches For the Star in You
There is an old stereotype that fashion is something that only women worry about. However, in recent years, more and more people have realised how important it is for a man to look stylish and confident. Every dapper guy understands that the wardrobe isn't the only way to show off your style. You must know how to accessorise in order to achieve a truly impactful and stylish look. A watch is an excellent way for any guy to add a touch of class and style to his daily outfit.
So, level up your game by adding some of the best boys' watches to your collection. When it comes to selecting a watch to wear, it can be extremely stressful, especially because it must coordinate with the chosen outfit. To help you out, we have curated a list of some ever-versatile boys' watches you can pick from. 
Your options for a wristwatch are virtually limitless. The only constraints are budget and taste. So, find below some of the options in boys' watches and take your pick:
Black Armour
This bold and classy watch from Titan Regalia is a multifunction dial that hosts functions like date, day and 24-hour subdials. The superior and luxurious looking black watch will transform your everyday outfits and uplift your personality. Made of sturdy and stainless steel with water resistance (5 ATM), this watch is a versatile fit for every man's wardrobe. The ever-classic combination of black and gold is sure to win hearts wherever you go!
Gold Rush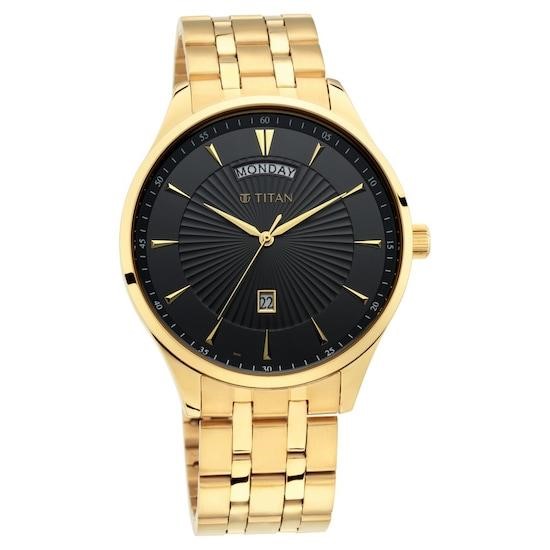 Another elegant and regal timepiece in boys' watches is Titan Regalia's Opulent Black Dial. Got a big wedding to attend? Look no further than this dashing timepiece that will escalate your formal outfits like nothing else. It shows off a stunning black sun-dial pattern that displays date and day too. With just the right amount of bling needed to make you the centre of attention, pair this one with an all-black suit to nail the look. So, add this majestic timepiece to your collection today!
Not So Basic Brown Dial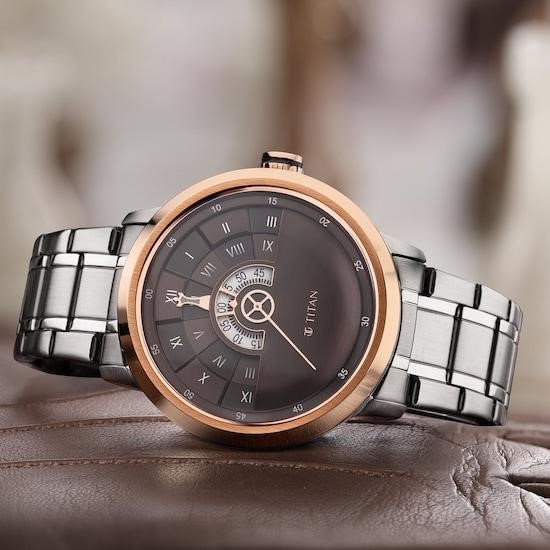 A grand testament to the game of chess, this stunning timepiece from Titan is a class apart. Inspired by the timeless aesthetic and tradition of chess, this watch is one of a kind. If you are looking for a watch that escalates your whole personality and takes your outfit to the next level, it can't get any better than this. The multi-level 3D dial and the rose gold window accentuates the dial even more. Powered by Titan's Quartz movement, this watch gives you everything and more!
 Casual Grey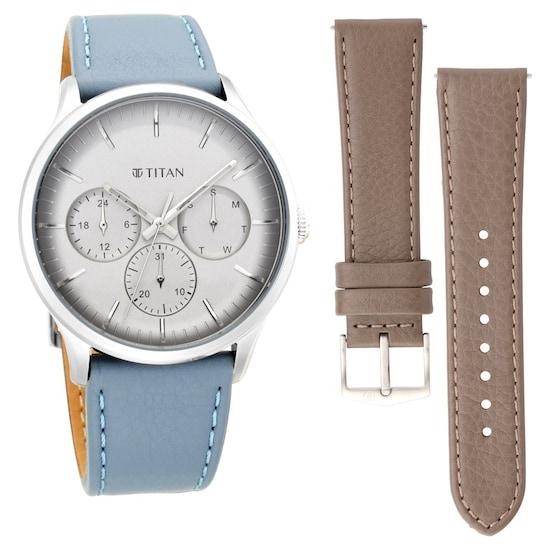 If you're aiming for an everyday cool watch, this interchangeable strap watch from Titan is all you need. Change the leather strap according to your day's mood and outfit to make a fashion statement every day. The grey and blue strap adds a subtle edge to your look and keeps the mood light and fun. Pair this watch with denim and monochrome shirts to look dashing!
Get the Best Boys' Watches Online
Choosing a watch that complements your style can be one of the most difficult decisions to make, especially with such a large selection of casual and luxury watches available online in India. Make sure you know what you're looking for while browsing through boys' watches online and get information about watch movements and it's functions to make a good choice. 
As you already know, buying a watch is more like an investment, so it is advisable to get one from a renowned brand like Titan. Titan watches are known to provide high-quality and designer watches for men and women, so much so that you'd be left spoilt for choices!